In Nickel Chromium Wire, Nickel-Chromium pre-alloyed and powder-filled (cored) wires consist of merchandise that square measure appropriate for general use coatings and extra merchandise for terribly specific coating applications.
The metal coatings created have a high degree of structural integrity, are dense, and might tolerate elevated temperatures and oxidizing atmospheres. The addition of metal, in some cases substantial amounts, enhances their high-temperature corrosion resistance. In most cases, the material choice depends on the particular coating environment but all of those materials will be used as bond coatings and for machine part restoration.
At our extensive manufacturing facilities, Nickel Chromium Wire is meticulously designed to near tolerances. Because of its base material composition, which contains varying amounts of chromium, nickel, iron, silicon, manganese, and other elements, it has a relatively high electrical resistivity and resistance to oxidation at high temperatures. Electric heating elements, rheostats, and resistance units all use nickel-chromium wire. Nickel Chromium Wire is offered in a variety of sizes to meet the needs of our valued customers.
Specifications of Nickel Chromium Wire
| | |
| --- | --- |
| Material | Nichrome |
| Usage/Application | Electrical Industry |
| Thickness | 1-10 mm |
| Shape | Round |
| Hardness | 180 HV |
| Melting Point | Up to 14000C |
Resistance Chart (80/20 Nickel Chromium Wire)
Size (SWG)
Size (mm)
Resistance (ohm/m)
Min
Mean
Max
20
0.914
1.578
1.661
1.744
21
0.813
1.995
2.100
2.205
22
0.711
2.608
2.745
2.883
23
0.610
3.543
3.730
3.916
24
0.559
4.219
4.441
4.663
25
0.508
5.109
5.378
5.647
26
0.457
6.313
6.645
6.977
27
0.417
7.582
7.981
8.380
28
0.376
9.326
9.817
10.307
29
0.345
11.077
11.660
12.243
30
0.315
13.287
13.987
14.686
31
0.295
15.150
15.947
16.745
32
0.274
17.561
18.486
19.410
33
0.354
10.521
11.075
11.628
34
0.234
24.078
25.346
26.613
35
0.213
29.060
30.590
32.119
36
0.193
35.395
37.258
39.121
37
0.172
44.566
46.912
49.257
38
0.152
57.065
60.069
63.072
39
0.132
75.668
79.651
83.633
40
0.122
88.581
93.243
97.905
41
0.112
101.786
110.637
118.780
42
0.102
122.722
133.394
143.212
Typical Uses And Applications
Bond Coatings beneath ceramic high coatings
Salvage and build-up of machinable steel and corrosion-resistant steels
Particle erosion resistance at high temperatures
Choose compositions like ASB 470AW, ASB 8276, ASB 8443, ASB 8718 and ASB8625 square measure applicable for chemical reaction and hot gas corrosion at elevated temperatures.
ASB 8276, ASB 8625 and ASB 8718 square measure superalloy compositions which will be used as salvage and restoration materials for nickel-based superalloy parts
ASB 8500 is suitable for extremely oxidation-resistant coatings for boiler applications
ASB 8622 and ASB 8452 square measure applicable for corrosion resistance in oxidizing and reducing environments, such as to be used in boilers
ASB 8622 is usually recommended to be used on digesters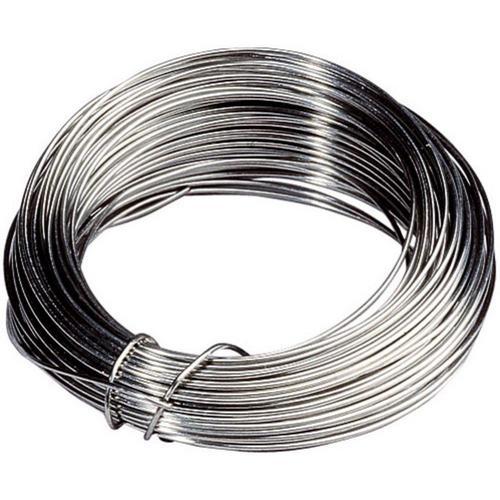 Nickel Wire
Nickel wire is primarily used in the manufacture of heating element connections. It can resist temperatures of up to 350 degrees Celsius. As a bare wire, Pure Nickel Wire Mesh is offered in a wide variety of sizes from 0.030 to 0.500 mm. The Pure Nickel Wire is composed of low-carbon steel with a pure nickel content of 99.5 percent. Steel Tubes India is one of India's leading producers of pure nickel wire. It comes in a variety of shapes, sizes, and weights. The essential characteristics are its hardness, strength to tolerate high temperatures, and formability. Nickel wire is used in a variety of applications.
Electrical contacts, mechanical fasteners, and electronic components are all made with Pure Nickel Wire Mesh. It's also used to make goods for the medical and aerospace industries, as well as to make batteries. This material's tensile strength is around 80,000 min psi, and its melting point is estimated to be around 2650 °F. Nickel Wire is shipped to the United States, Canada, Qatar, Saudi Arabia, Thailand, Mexico, Singapore, Indonesia, and the United Arab Emirates.
We offer many nickel-based alloys that are used in RTD sensors, resistors, rheostats, voltage control relays, heating elements, potentiometers, and other components all use nickel-based alloys. Engineers create designs based on the qualities of each alloy. Resistance, thermoelectric qualities, high tensile strength, coefficient of expansion, magnetic attraction, and resistance to oxidation or corrosive conditions are some of these properties. Uninsulated wires and wires with a film covering are also available. Most alloys are also available in flat wire form.
High Strength Nickel Alloys
This material is known for its toughness over a wide temperature range and its resilience to a variety of corrosive conditions. Cold-working is the only way to harden. It can withstand temperatures of up to 1050°F and has excellent mechanical qualities below zero degrees. The melting point is 2370-246000F.
Nickel Chromium Wire Price in India
Nickel-Chromium wire price in India depends on the quality and quantity of the wire. We also offer the Best thermal spray wire, Babbitt wire in Jodhpur, Rajasthan, India. We are the Manufacturer, Supplier & Exporter of sand blasting machine, shot blasting machine, grit blasting machine, sand blasting cabinet, pressure blasting cabinet, zinc spray gun, thermal spray gun, etc in India.