Zinc Cut Wire Shots are created by cutting zinc wire into pellets or small parts the length adequate to the diameter of the wire. Zinc Cut Wire is used in a sand blasting machine for particle removal, deburring, and deflashing of non-ferrous components. The Cut Wire shots are additionally possible or available through a modified form which is used as an extended-lasting alternative to cast zinc shot. Deburring or trimming and flashing of aluminum and zinc castings and die-castings.
Removal of sand from sand castings. Removal of parting lines and stains and spots from non-ferrous castings. Removal of water wrinkles from aluminum fade parts and providing a luster satin-type finish. Zinc Cut Wire shots supply short or temporary corrosion protection to non-ferrous parts and sandblasted particles with their very thin layer, up to 1.3μm thick is deposited onto the surface of the part.
Specifications of Zinc Cut Wire Shots
Sizes Available (Sizes of zinc cut wire shots are as per customer need or as conditioned)
0.6 mm to 3.00 mm
Minimum Order Quantity
25 Kilogram
Material
Zinc
Packaging Type
PP Bag
Shapes
Zinc As Cut
Zinc ConditionedCCW (G1)
DCCW (G2)
SCCW (G3)
Chemical Properties:
| | |
| --- | --- |
| Al | 0.003% |
| Cu | 0.001% |
| CO | 0.002% |
| Zn | 99.99% |
| Fe | 0.004% |
Physical Properties:
| | |
| --- | --- |
| Hardness | Cylindrical – 35-55 HVSpherical – 45-60 HV |
| Density | 7.1g/cm3 |
| Bulk Density | 4200 Kg/m3 |
Zinc Cut Wire Shot in India
When cut wire shots are utilized in the blasting process, a superior surface finish is achieved, and the cost of production is reduced. A component with a hardness of 40 HRC or less is considered low-hardness. The usage of high-manganese zinc cut wire shot is recommended. The sand blasting nozzle wears and tear is reduced when high manganese low carbon wire shot is used. It also extends the life of sand blasting nozzles.
The size of the lodge is determined by the part dimensions. Cut wire shots do not deliver dust during the blasting process and are frequently reused. Depending on the application, cut wire shots are available in a variety of hardness ranges. Cut wire shots with a higher hardness have lower toughness. Following blasting, the surface cleaned with cut wire shots appears to be much more bright and smooth.
We manufacture various types of Cut Wire Shot which can be listed as follows:
Stainless Steel cut wire shot
Steel Cut Wire Shot
Zinc Cut Wire Shot
High Carbon Cut Wire Shot
Conditioned Cut Wire Shot
Aluminum Cut Wire Shot
Copper Cut Wire Shot
Brass Cut Wire Shot
Spring Cut Wire Shot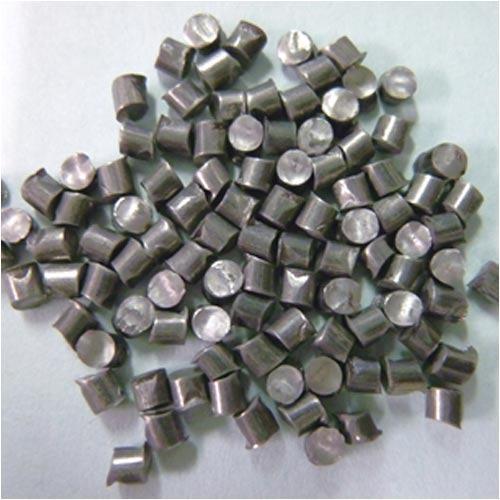 Applications Zinc Cut Wire Shot
Surface finishing
Obtain a profile pattern
Shot peening
Shot blasting
Grit removal
Pre-treatment
Rust removal
Blast cleaning
Advantages of Zinc Cut Wire Shot
Most economical and lowest consumption.
Consumption 3-4 times less compared to cast shot.
No dust formation.
Faster cleaning.
Environmental friendly.
Uniform hardness.
Stabilized grain size.
The increased fatigue life of blasted parts.
Zinc Cut Wire Shot Manufacturer in India
We are a leading manufacturer of zinc cut wire shot in India. We also offer an abrasive shot, Steel Shot, Steel Grit, Garnet sand, Quartz shot, Aluminum oxide, glass beads, etc at an impressive price range in Industry. Our team provides services in various cities such as Delhi, Mumbai, Pune, Chennai, Bangalore, Kolkata, Haryana, Punjab, Hyderabad.
To enable us to quote for your requirement, kindly give us the following info –
Particle size required (You may choose from above or give your own range).
Packing required.
Quantity required with the delivery schedule.
Destination port.
Payment terms.
Discharge rate at the destination, if in break-bulk.
Any other point which may impact the quote.
We can also offer ungraded material for shipments in bulk in any quantities as desired by our buyers on FOB or CNF FO basis terms.