Pressure Blasting Cabinet
The Pressure Blast Cabinet uses the Direct Pressure concept of blasting to achieve high abrasive velocity, resulting in faster work cleaning. Automatic abrasive refilling is accomplished by a pressure tank immediately bolted beneath the cabinet's hopper. A tubular cloth bag type dust collector with a large filter area is included as a standard feature for high dust collection efficiency. For bag shaking, a manual shaker is also provided. Pressure Blasting cabinet is recommended for quick cleaning, heavy rust and corrosion removal with coarse abrasive, and etching the surface required for thermal spraying. The blast pressure can be adjusted between 30 and 90 psig. Depending on the application, almost any coarse or medium abrasive can be utilized. we provide all cabinet and portable type sand Blasting machine, shot blasting machine, grit blasting machine in India.
The Pressure blasting cabinets are made of manufactured 10 gauge steel. Both sides of the cabinet have full-opening, hinged doors. The doors have lips on them to keep abrasive from flowing out. Rubber sheets are used to line the high-wear sections within the front and back of the cabinets. The work surface is a thick perforated steel sheet that can be simply removed. The hopper-shaped bottom of the cabinet collects and recycles the abrasive.
Glove ports with arm-length neoprene gloves are located in the cabinets. For operator comfort, the hand sections are cloth lined. Safety glass is used for the view windows, which are sealed with a rubber gasket.
The reusable abrasive media is returned to the hopper for recycling, and the broken-down abrasive media, dust, and debris are passed out of the pressure blasting cabinet to the dust collector via a built-in separator. The dust collector is made up of a bag filter and an exhaust blower enclosed in welded steel.
A pressure vessel is used to activate the abrasive material in pressure or direct pressure abrasive blast equipment. The pressure vessel's pop-up or metering valve is opened to release pressurized fluid and blast media into a blast hose. The blast hose transports the pressured medium to the direct pressure blasting cabinet and blast gun.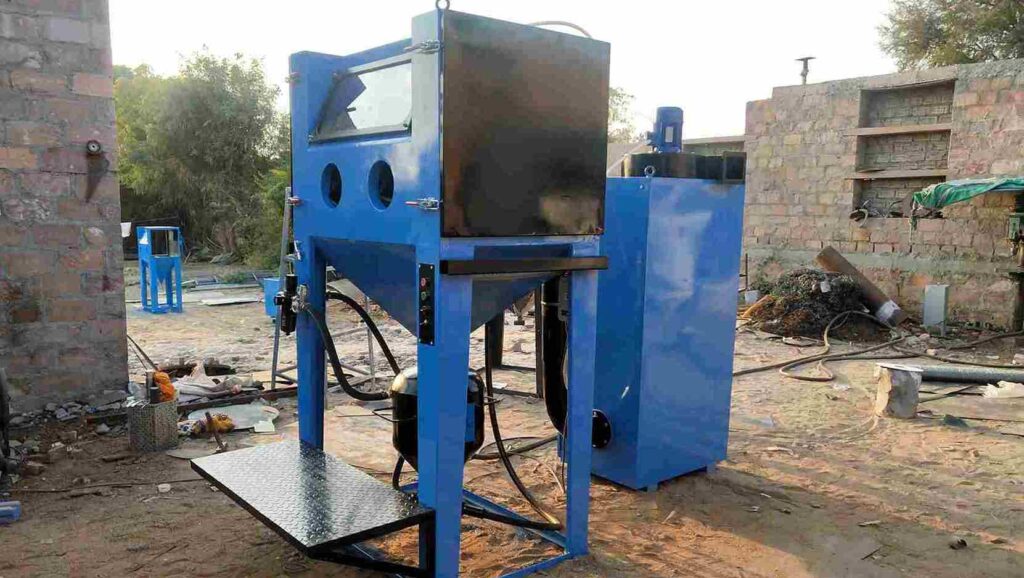 Pressure blasting Cabinet Available in three standard models:
SPB-9182
SPB-12090
SPB-150120
Pressure Blasting Cabinet Specification:
Working Chamber mm
| | | | |
| --- | --- | --- | --- |
| Model | SPB-9182 | SPB-12090 | SPB150120 |
| Height | 775 | 900 | 900 |
| Width | 910 | 1200 | 1500 |
| Depth | 820 | 900 | 1200 |
Door Opening mm
| | | | |
| --- | --- | --- | --- |
| Width | 730 | 800 | 1100 |
| Height | 675 | 800 | 800 |
Overall Dimension mm
| | | | |
| --- | --- | --- | --- |
| Height | 2130 | 2030 | 2080 |
| Width | 1100 | 1365 | 1665 |
| Depth | 2500 | 2430 | 2730 |
Benefits Of Pressure Blast Cabinet
The pressure blaster cabinet and abrasive amount are simple to set up and structure.
With a large foot pedal, it's simple to start and stop blasting.
A full-width window provides a high-quality working view, as well as effective dust extraction.
With a big side door, there are plenty of access options.
The gathered dust can be easily disposed of in the sand blasting hopper.
Pressure Blasting Cabinet Price
Within the confines of a bead blasting cabinet, our pressure blast cabinets deliver the cleaning efficiency of an outdoor portable blaster. The pressure blasting cabinet price in India is determined by the size of the workpiece. If the workpiece is tiny, a small blasting cabinet is required. Because the size of the workpiece will determine the size of the blast cabinet, the cost will be determined by the blast cabinet's size. The cost of a pressure blasting cabinet can be reduced depending on the component size.
Pressure Blast Cabinet for sale
Shot Blasting Machine is the leading Manufacturer of Pressure Blast cabinet for sale in India at a low price. We are also Manufacturer of sand blasting machine, shot blasting machine, girt blasting machine, pressure sand blasting cabinet, sand blasting cabinet,bench top sand blasting cabinet, thermal spray gun, arc spray gun, flame spray gun, abrasive media in India.