Wire Flame Spray Gun might be a warm spraying method that utilizes an oxygen-fuel gas flame as a hotness hotspot for liquefying the wire (covering material). Here, compacted gas is utilized for atomizing and pushing the texture to the work piece. the strategy of flame spraying utilizing wire is known as metalizing or wire flame spraying.
Process of Wire Flame Spray Gun :
Through an air-driven turbine, the wire is fed into the front of the Wire Flame Spray gun. In the siphon plug gas head assembly, which offers a combustible heat source, fuel gas and oxygen are mixed appropriately and safely. As a result, the molten metal is atomized and driven by compressed air into a fine metal spray for application to the task surface.
The material is embedded during a gun and spout and gets softened inside the oxygen fuel gas flame. An air stream from the gun moves the atomized particles to the work piece. At the point when the wire is utilized for surfacing material, it's taken care of into the spout by an air-driven wire feeder and is softened inside the gas flame. At the point when powdered materials are utilized, they'll be taken care of by gravity from a container which can be a neighborhood of the Wire flame spray gun.
Zinc wire, Copper, Aluminium Wire, Brass, Steel, Stainless Steel, Molybdenum wire, Nickel Alloy, and other metals and metal alloys in wire form are commonly used for spray coating. 1/8″ (3.17mm), 5/32″ (3.97mm), and 3/16″ (3.97mm) wire are the most common sizes utilized (4.76mm).
Activity Manual of Wire Flame Spray Gun
Wire Feed – Air Turbine
Wire Size Standard-1/8″ (3.17mm)
Wire Size Optional-15G, 11G, 5/32″, 3/16″ (4.76mm)
Gasses Used-Oxygen and Fuel Gas
Fuel Used-Acetylene or LPG/Propane and so forth
Compacted Air-35 CFM at a tension of 5 bar or 75 psi
Net Weight-Approx 2.7 Kg. (Gun Only)
Wires Used – Copper, Zinc, Zinc amalgams, Aluminum, Babbitt wire, Nickel, Nickel iron composites, and so on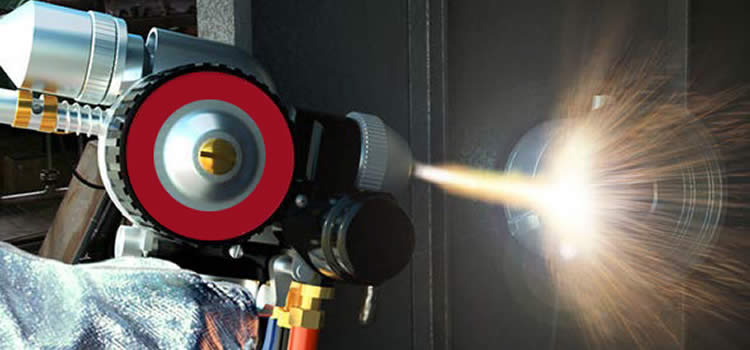 Applications Of Wire Flame Spray Gun:
• For wear coatings, molybdenum
• Non-ferrous metals covering, copper, bronze covering
• Fine covering with low hotness input
• For recovering the pieces of roller and shafts Viable
• Versatile equipment decisions that permit the gun to be arranged for use with troublesome and delicate wires in a sort of measurements.
• Wire drive takes care of wire dependably, reliably, and uniform movement, in spite of vacillations in gaseous tension.
• It is grown toughly and made for extended assistance existence with low support
• Gas head gadget holder permits simple and quick set up of spray gas tensions and moves preceding gun ignition.
• It is a straightforward activity that requires the least administrator preparation.
• The fixing of O-ring among spout and siphon plug ensure free from any and all harm activity and explain gun upkeep.
• Support and equipment change over the spout is exceptionally basic, siphon attachment and driving wire guide gadgets can be effectively disposed of and supplanted by a total unit.
Highlights of Wire Flame Spray Gun:
• Reasonable for Engineering wires, prepares, copper, and bronzes + against consumption materials.
• Enormous regions are sprayed effectively
• divider control board with Safety shut-off valve
• Use fuel like Oxygen, Nitrogen as it were
• Conductive coat applications.
• best for Portable for an on-location coat.
• Gives protection from wear, scraped spots, and disintegration.
• Warm hindrance coat to secure designs and materials
• Gives Corrosion obstruction in air and marine conditions
• It gives insurance against high-temperature oxidation, disintegration, and erosion
• Electrical opposition, electrical conductivity, or electromagnetic protect
Wire Flame Spray Gun Price
Shot Blasting Machine is the leading Manufacturer of Wire Flame Spray Gun in India at a low price for sale. We are a manufacturer and supplier of Flame spray gun, hvof gun, thermal spray gun, arc spray gun, metalizing gun, powder flame spray gun, sand blasting machine, sand blasting room, shot blasting machine, shot blasting cabinet, abrasive media in india.