Steel Grit hardness is very high and is counted in high hardness abrasives like steel shots and silica carbide. Steel grit is different in shape and has angular and spherical shapes. It is mainly used for removing dust, dirt, and cleaning surfaces for rough surfaces. For rough surfaces, we can use the steel grit abrasive. Steel Grit is obtainable during a style of shapes and sizes which will allow administering a spread of blast profiles for getting totally different results.
This sort of grit is angular in nature; it means it's been created. This grit is good for serving to get rid of the contaminants from the surface of the assorted products and it additionally creates a final profile for the brand new coating to stick to the foremost common uses for steel grit area unit removing of mill scale, removing totally different degrees of coatings from the surface of the product and a typical grit sizes that area unit most ordinarily used vary between G25 – G80. The larger the quantity of the grits, the smaller are going to be the dimensions of the particular particle of blasting media.
These smaller particles then produce a smaller blast profile on to the merchandise on the opposite hand the larger particles (the ones that have smaller G numbers) can produce a deeper blast profile. In addition to the depth of the blast profiles, the larger particles can show effectiveness within the removal of significant amounts of paint whereas the smaller lot of particles are going to be best suited to removing contaminants on lighter surfaces.
The smaller particles with larger variety like G80 grit can leave a one to two Mil profile and bigger particles sort of a G25 can leave deeper profiles that vary between four to six miles (this finding stands true once, all the opposite blast instrumentality settings stay the same).
An additional profit connected to the steel grit is that it's the potential to be used multiple times before the necessity of replacement of the grit arises. One will use mechanical blasting media recovery instrumentality if you would like to recover and use the media once more. This permits the media to be used or so a hundred and fifty to two hundred times before it must get replaced with a recent blasting media.
Specifications of Steel Grit
| | |
| --- | --- |
| Name: | GP steel grit |
| (C) | 0.85-1.20 % |
| (Mn) | 0.60-1.20 % |
| (Si) | 0.50-1.20 % |
| (S) | ≤0.05 % |
| (P) | ≤0.05 % |
| Hardness | 42-50HRC |
| External firm | Spheroid, semi-spheroid, and flat granules <10% |
| Microstructure | Homogeneous tempered martensite and bainite |
| Density | 7.4g/CC |
Steel Grit is used in sand blasting machine and wheel blasting machine and is a mechanical process of removing dust, rust, paint, and impurities from the surface of any material. It is performed with the help of any type of steel grit along with compressed air or water, thrown against the surface of the material at high speed.
| | |
| --- | --- |
| Grade No. | Size |
| G10 | 2.00 mm |
| G12 | 1.70 mm |
| G14 | 1.40 mm |
| G16 | 1.18 mm |
| G18 | 1.00 mm |
| G25 | 0.71 mm |
| G40 | 0.42 mm |
| G50 | 0.30 mm |
| G80 | 0.18 mm |
| G120 | 0.12 mm |
Types of Steel Grit
Mainly there are 3 types of steel grit:-
GP Steel Grit
GL Steel Grit
GH Steel Grit
GP Steel Grit
GP steel grit is an external form that is rounded or cylindrical and shaped with steel water, owns a fine elasticity, and the strength of a fatigue resistance as a result of fine heat treatment, applied in all aspects, special hardness steel has shot applied in strengthening a treatment.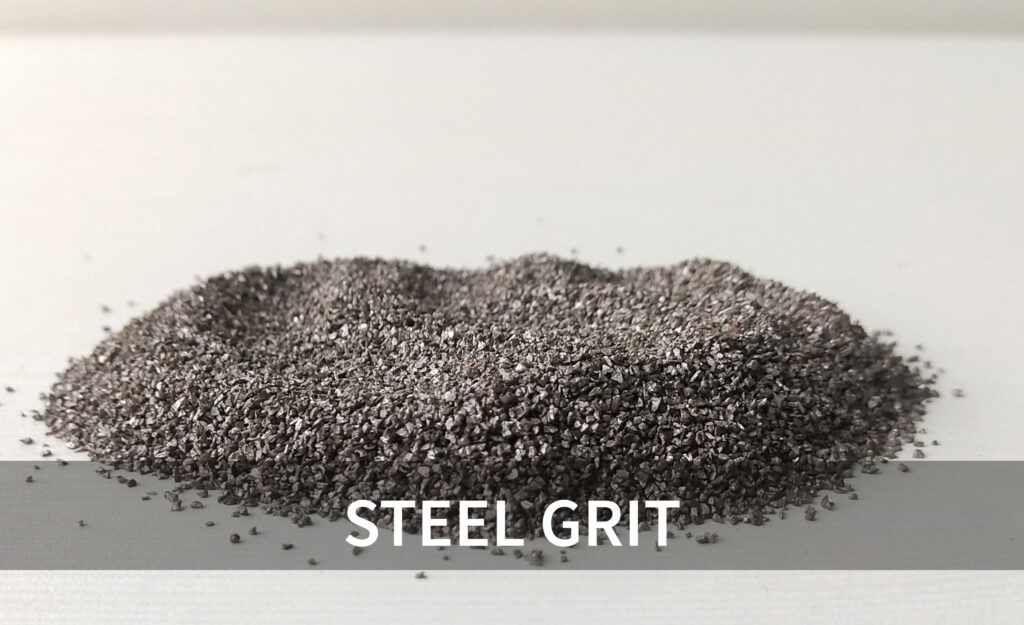 GL Steel Grit
GL steel grit is stronger than GP steel grit, GL also loses its form is edged during a shot blasting and is particularly suited to descaling and surface preparation applications. Mainly used for shot blasting machine.
GH Steel Grit
GH steel grit has a maximum hardness, GH always remains angular in its operating mix. These abrasives are particularly effective in surface treatment processes and produce a uniform, etched finish, GH angular grit should only be used in wheel machines where working requirements take precedence over cost price considerations.
Applications of Steel Grit
Shipbuilding
Pipe building
Steel construction
Granite cutting
Metal fabrication
Steel mills
Steel Grit Manufacturer in India
We are a Manufacturer, Supplier & Exporter of Steel grit, Aluminum Oxide, Abrasive Garnet at a low price for Sale. We are also a Manufacturer of Sand Blasting Machine and Shot Blasting Machine in Jodhpur. We represent and offer the best supplies of surface finishing equipment and Abrasives and we provide a trustworthy service with a great experience. Our focus is on client satisfaction and happy customers.