Zinc wire is a multi-step process that involves melting Zinc or Zinc Alloy metals and then propelling the molten fragments onto a prepared substrate to create a lamellar or multilayer covering. Metalizing Gun, as it is often known, is a highly effective and well-proven method of corrosion prevention that provides galvanic and barrier coating protection to iron and steel.
The majority of steel protective coating technologies only serve as a barrier between the steel and corrosive environments. Moisture and oxygen can enter the steel if these passive and permeable barriers are destroyed or breached, causing rust and coating failure. A zinc metalized coating provides barrier protection, but because of the electrochemical interaction between zinc and steel, it can also provide cathodic protection. A zinc spray gun coating will galvanically maintain the steel: it will corrode in preference to steel, protecting the steel for as long as any zinc remains in the nearby region. Sealers and topcoats adhere well to the metalized coating's surface.
Specifications of Zinc Wire
| | |
| --- | --- |
| MOQ | 2 Metric Ton |
| Material | Zinc |
| Condition | New |
| Country of Origin | India |
| Application | Plastic Film Capacitors, Construction, Electronics |
| Type | Pure Zinc Wire (Special High Grade 99.995%) |
| Feature | Crack Proof, Easy To Fit |
| Wire Diameter | 1.2-3.2mm |
Physical Characteristics
| | |
| --- | --- |
| Density | 7.14 g/cm3 |
| Melting point | 419.6 C |
| Boiling point | 907 C |
Tensile strength
| | |
| --- | --- |
| Soft zinc wire | lower than 100 N/mm2 |
| Medium zinc wire | 100–120 N/mm2 |
| Hard zinc wire | higher than 120 N/mm2 |
Elongation at rupture
| | |
| --- | --- |
| Soft zinc wire | 60–100% |
| Medium zinc wire | 40–80% |
| Hard zinc wire | 30–60% |
Zinc Spray Wire
Ordinary zinc-plated coatings in Zinc Spray Wire are dull black with a matte finish, yet more white, brighter coatings are typically delivered, depending on the procedure for professionals applied to the plating shower or through post-medicines. The number represents the thickness of the coating in microns (m). Zinc plating is commonly used for screws, other light clasps, light switch plates, and other small parts. For added consumption guarantee, materials for use in moderate or severe conditions should be chromate transformation coated. The zinc spray wire covering is unadulterated zinc, which has a hardness of roughly 33% to one-third of that of most metals.
Applications of Zinc Wire
Construction area.
Woven wire mesh.
Handicraft.
Used in thermal spray gun.
Highway fence.
Product packaging.
Daily civil use.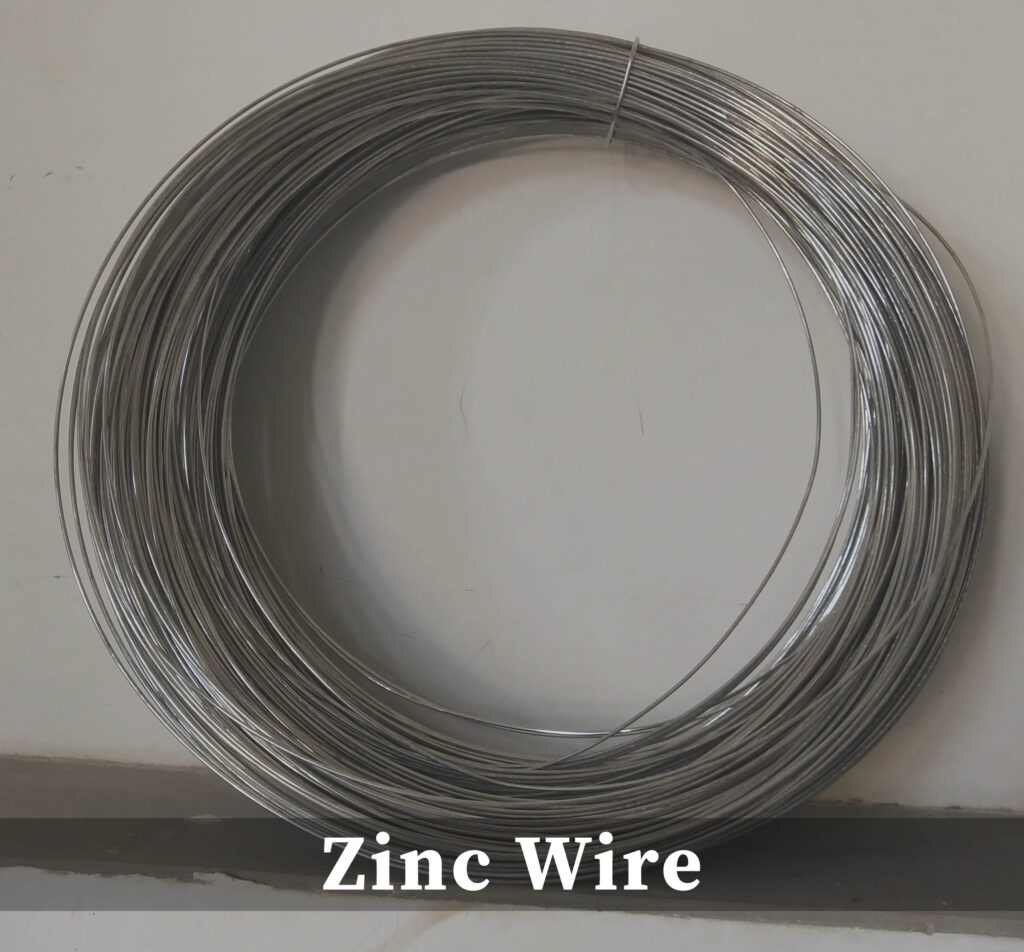 Features of Zinc Wire
High product purity.
Good toughness and elasticity.
Clean and smooth surface.
Anti corrosion surface treatment.
Anti hard environment.
Good electric conductivity.
Durable and long service life.
Safety Precautions
Grit blasting, Metalizing and sealer activities should be carried out in dry weather; repairs should not be carried out in wet and windy weather without the prior approval of the Engineer in charge of the project.
The standard protections against vapor and residue hazards, such as wearing a cover and providing enough ventilation, should be noted.
Any warnings imprinted on compartments by sealer material manufacturers should be noted, and the client should advise him, taking into account all instances of confusion about the item's safety and fire dangers.
The standard precautions against exhaust and residue concerns, such as wearing a veil and having adequate ventilation, should be noted. During the spraying of Zinc combination, no unusual dangers arise.
Zinc Wire Manufacturer in India
We are the best Zinc Wire Manufacturers in India. We provide the best zinc metalizing wire, molybdenum wire, aluminum wire, & babbitt wire with the best quality at a low price. We also provide sand blasting machine, shot blasting machine, grit blasting machine, sand blast room, thermal spray guns, flame spray gun, and abrasives all over the world. Our best team provides services in countries such as Kuwait, United Arab Emirates, Oman, Qatar, Saudi Arabia, South Africa, Kenya, and many more.