What is Sand Blasting Machine
Sand blasting machine is used to remove rust, corrosion, and smooth rough metal and non-metal surfaces. Sand Blasting machine operates at extremely high pressures and is mostly used to remove paint particles and rust particles, but they can also be used to remove other undesired particles. Sand blasting machines are used to clean or shape a surface using abrasive media (sand) that is propelled at high pressure, generally using compressed air or a blast wheel. The majority of sand blasting machines use silica sand as an abrasive media. Sand Blasting Machine are numerous varieties such as a Portable Sand blasting Machine, Sand Blasting Cabinet, Blast Room, Automatic Sand Blast Machine.
Sand Blasting Machine is a way of smoothing and cleaning a hard surface by forcing solid particles on the surface of the workpiece at high speeds by using compressed air from the air compressor. With aggressive blasting, the sand moved against a surface. With shot blasting machine, on the other hand, steel shots or glass beads are propelled or moved against a texture. The beads are often made of stainless steel shots, copper slag, aluminum oxide grit, or zinc. In this case, all of these metals are harder than sand, making shot blasting even more effective than its aggressive blasting equivalent.
Working of Sand Blasting Machine
First of all, Portable Sand blasting Machine is completely filled with Abrasive (garnet, glass beads, aluminum oxide, etc.) as per the requirement inside the hopper. After filling the hopper completely with the abrasive air compressor valve is opened manually. As the air starts to flow from the air compressor to the air filter where the air gets filtered and moisture is removed from it. And another supply of air is directly given to the hopper which is used to create pressure inside the hopper with the help of a mushroom ball.
Air from Air Filter flows to Remote control which is used for the purpose of ON/OFF the supply of air. As supply is ON, air continues flowing from Net Realizable Valve (NRV) which is used to control the amount of air supply and also prevents air to go back. From NRV air flows to Pinch Valve.
Pinch Valve Is a two-way valve designed to shut off or control the flow of abrasives media. Abrasive from high pressure from Sand Blasting hopper comes in pitch valve. Then comes the Mixing Tube in which the mixing of air and abrasive takes place. Hose's one end is connected with mixing tube and another with nozzle. This mixer of air and abrasive moves with high pressure through the hose and passes from the nozzle with high pressure on the workpiece, on which blasting is to be done.
Main Components of Sand blasting Machine
Air Filter
Mushroom Ball
Net Realizable Valve (NRV)
Remote Control
Pinch Valve
Mixing Tube
Sand Blasting Holes
Sand Blasting Nozzle
AIR FILTER – prevents impurities such as moisture, etc. from the air compressor.
MUSHROOM BALL- used for creating the pressure inside the hopper.
NET REALIZABLE VALVE – used to control the amount of air supply and also prevents air to go back.
REMOTE CONTROL VALVE – used for on/off the supply of air in Sand Blasting Machine.
PINCH VALVE – is a two-way valve designed to shut off or control the flow of abrasives.
MIXING TUBE- where mixing of air and abrasive takes place.
SAND BLASTING HOLES- from which the hose pipe is connecting.
SAND BLASTING NOZZLE- is a device that accelerates the air and abrasive blasting mixture over a material's surface that exhibits pitting and needs repair and subsequent protection from corrosion.
Types of Abrasive Used in Sand Blasting Machine Equipments are:
Glass Beads
Sand
Metal Shots
Garnet
Aluminum Oxide
Steel Grit
Steel Shot
Application of sand Blasting Machine:
Sand blasting is mostly related to cleaning painted and unpainted steel.
Copper Slag is commonly used as an abrasive sand blasting in shipyards and other industries to remove paint, rust, etc.
Nowadays abrasive sand blasting is used in almost every industry that uses metal, including aerospace, industries, construction, foundry, shipbuilding, rail, and many others.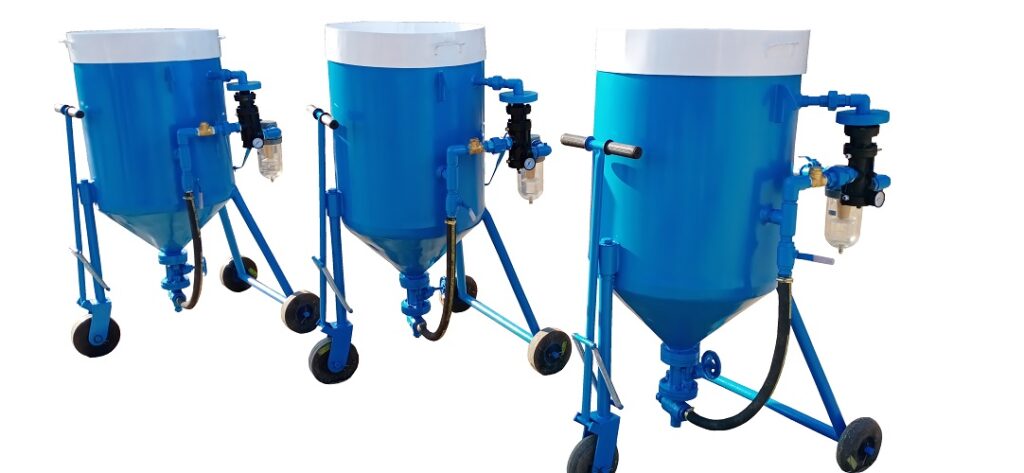 Types Sand Blasting Machine
Portable Type Sand Blasting Machine
Cabinet Type Sand Blasting Machine
Portable Type Sand Blasting Machine
Portable Sand Blasting Machine is a machine that can be movable from one place to another and blasting work can be done easily. The Portable Sand Blaster is based on the Direct Pressure System, which results in a high cleaning rate and a more cost-effective system as compared to manual blasting. Sand blasting machines are typically portable and manual, requiring only one operator at all times. It can be used with the Deadman handle, which is a remote control. The remote control system is utilized to turn the machine on and off. To operate it safely, the operator should wear sand blasting safety equipment such as a helmet, suit, gum boots, and an air breather. Pressure blasting is also called a portable machine. A pressure blasting cabinet uses a pressurized vessel (portable machine) filled with abrasive media, which is then forced through the blast nozzle.
Standard types of Portable Sand blasting Machine available are
STI P7-150
STI P7-300
STI P7-500
STI P7-1000
Specification of Portable Sand Blasting Machine
Model
STI P7-150
STI P7-300
STI P7-500
STI P7-1000
Abrasive tank Capacity
150kg
Sand – 50kg
Volume – 42ltr
300kg
sand-130
Volume-85ltr
500kg
Sand – 230
Volume-142 Ltrs
1000kg
sand-460kg
Volume-284 ltrs
Blast pipe Length
5mtrs.
5 mtrs.
7.5mtrs.
10 mtrs.
Sand blasting Nozzle
5mm
6mm
6mm/8mm
10mm
Air Compressor
45cfm
85cfm
135cfm
217cfm
Abrasive Media size
25 to 80 Mesh.
25 to 80 Mesh.
16 to 80 Mesh.
16 to 80 Mesh.
Advantages of portable sand blasting machine
The cost of the portable table is cheaper than a suction machine.
It can easily move from one place to another where we want to use the machine and be comfortable.
Cabinet Type Sand Blasting Machine
Cabinet type sand blasting machines are specifically developed for large industrial applications. In addition to cleaning, this machine has two additional features: recycling and dust collection. Cabinet Sand blasting machines are cabinet-like structure that is in the closed-form of the machines. Sand blasting Cabinet is used to clean medium and small works such as mild steel, stainless steel, glass, handicrafts, wood, castings, and moulds. Sand blasting can also be used to improve the surface quality of a component, such as eliminating scratches or casting, mould marks. Etching and engraving of glass and granites are done with a sand blasting cabinet.
Sand blasting cabinet are three types
1) Pressure blasting Cabinet
In simple terms, the Pressure Blasting cabinet and Suction Blasting cabinet construction of the machine is the same but the difference is that only Suction Blasting consists of a Blast Gun that results in blasting whereas Pressure Blasting consists of a Pressure Pot.
2) Suction blasting Cabinet
Suction Blasting Cabinet is a clean, dust-free sand blaster that leaves the surface cleaned and well prepared for painting, etc after treating corrosion or unfinished surface.
3) Wet blasting Cabinet
Wet Blasting Cabinet uses a slurry pump to draw the wet slurry of very fine abrasive and water to the blast gun where it is combined with the compressed air and propelled against the workpiece.
Wet blasting involves high-velocity, compressed air pushes slurry directed onto a workpiece.
The slurry is normally made of fine abrasive mixed with water.
Sand Blasting Machine price in India
We are the leading Manufacturer of sand blasting machine in India for sale. We are also the manufacturer of all types of sand blasting machine, portable sand blaster machine, sand blasting cabinet, shot blasting machine, abrasive blasting machine, thermal spray gun, hvof gun, flame spray gun, arc spray gun, abrasive media in India. Sand blasting machine price depends on the capacity of the abrasive tank and type of sand blasting machine in India.